Tributes to Judy "Dr. Livingstone"
Your spirit will walk ON ON with us!
(pictures by Count Dracula, Lagerfeld and Rice 'N Peas)
Send your tributes and pictures of Judy to bmw@jamaicahash.org
"Here's to Judith, She's true blue
She's a Hasher through and through
She's a hasher so they say
and she made it into Heaven
'cuz she lived the right way!"
We Love You Jude! Walk Good!
From the Hashberdashers
Psycho and Cockpit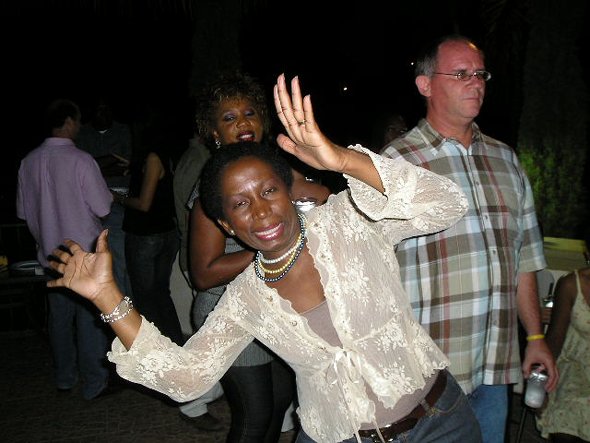 Keep dancing JB! Rice 'N Peas (Emile)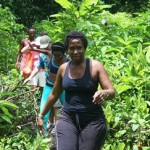 Judy "Dr. Livingstone" Burke, our "Hash Cash", was truly a bastion of our Hash community, caring for our wellbeing as individuals and as the Hash House Harriers!
We would like to express our heartfelt condolences to her husband Anton, her family and all her dedicated friends.
You will be remembered singing, laughing and dancing in our midst. Dance in heaven Judy! Your spirit will walk ON ON with us!
Yours truly,
BMW (Ulla) and Maniac (Paul)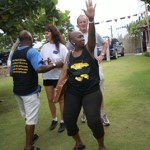 Judith was a very bubbly and friendly lady, she made everyone feel at ease.
She was interested in you as a person, she was always smiling even when times for her were tough.
Christine and Walter Woods
(Frau Brau and Guano)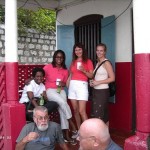 I will miss her soooooooo very much. She is forever in my thoughts and probably she is smiling down at us and saying, "she has moved ON ON to a much better place". I will always remember the good times we shared.
Mara (Miss Purrfekt)
I only knew Judith for less than two very short years. The first thing that struck me was how very strong she was, handling the severe illness that had her body trapped. She walked tall with her pain.
The second thing I remember is her sincere smile every time she greeted me; with that best kind of Jamaican hospitality that welcomes and accepts a stranger right away. It was a smile that enlivened our many get-togethers, and animated the whole group with a love of life and keen appreciation of living for the "now".
Amongst many other things, like friendship and the natural beauty of her Island, Judith loved music and had an encyclopedic knowledge of it. When I close my eyes now I see her in the midst of her struggle to survive and with a scarf to warm her bare head, up near the top of Blue Mountain, with a chill in the air, raising her spirt to sing a silly old song with me. And as the last note on the guitar rang long in the mountain stillness, she'd laugh and clap for us, encouraging me to go on and mangle another tune.
I think that's what she is encouraging us all to do now. To go on and, sing the next song, to have the next Hash, to laugh at the next party. For her memory is not best served by feeling sorrow and anger at the unfairness of life. Her legacy should be about how she clung to life and spared the rest of us the pain and depression.
Let us live and learn from the great people that have walked amongst us, all of us stronger from the example they showed. That is hard to do today, but life is a long song, and she will always be amongst us and the warmth of that smile will forever burn hot like the Jamaican sun.
Rest easy Judy, we will find a way to say….on on.
Johnny Hash (Mark Finnegan)
Toronto, Canada
The first time I met Judith in Oct 2007 she had just arrived home the day before from the hospital. Although she was obviously not feeling well she welcomed us into her home, offered us refreshments and made us feel welcome. She was bubbly, witty and warm a most gracious hostess.
When assisting her with Hash Cash duties we'd chat and share a few jokes usually regarding Anton and Wayne's antics. During our January stay in Blue Mountain and our February picnic in Hollywell and our Easter Weekend in Black River I really got to know another sides of Judith. She had a very nurturing, motherly instinct always making sure everyone had enough to eat and was comfortable. Her courage, laughter and bright smile are the things I will always remember most.
ON ON
Sandy Busby
Toronto Canada
Talking about Judy could fill a book as far as we're concerned. There is one story you might have heard of, but which might be new to some of the JAH3 gang. It's our absolute favourite, and it goes like this:
Oldenburg in Holstein, June 2006. Judy and Anton had decided to come to Europe that year, and as their visit happened to begin in June, they came to the world-famous Oldenburg Gilde (the oldest of its kind in Germany). We have a special breakfast location in Oldenburg, a famous bakery whose name escapes to us at the moment but it's where Top Banana grew up. As we all know, Judy wasn't the shy kind, in fact she was very confident in her German language skills, and so came the morning when we all met for breakfast and she decided to order hers all by herself, knowing that the German word is "Frühstück". Her husband was very proud of her indeed and even complimented her. Shortly thereafter, a serving of breakfast came to the table, which Judy started eating while Gerd was beginning to wonder why his breakfast took so long to arrive. The six of us were a little surprised when suddenly the waitress brought an absolutely enormous ice cream with fruits. Each of us were wondering who ordered ice cream for breakfast, the waitress was confused, and then one of us asked Judy what word she used when she ordered. She tried to pronounce "Frühstück", but it indeed very much sounded like "Früchtebecher" — the said ice cream. So she was actually having Gerd's breakfast. As you can imagine, all of us, except the poor waitress, were absolutely in stitches!! Gerd then eventually got his breakfast, we shared the ice cream — and we had to reassure the poor waitress that everything was all right.
So much for the story. Flo and I will always remember our dear friend as cheerful and funny, full of laughter, as well as warm-hearted, open, always willing to help, always accommodating — we could go on and on and on…
We miss her and always will!
Flo & Olli (a.k.a. Full Stop & Winword)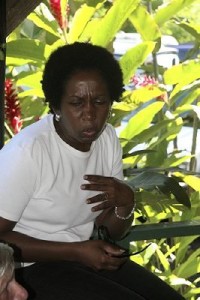 My deepest sympathy to the family of Judith (Dr. Livingston) I will miss her very much. May God be with you on your journey to the other world-keep on hashing Judith !!
"Rest in God's Love"
Your fellow hasher Annie Lopez (JLo)
What I will always remember about Judy is that she always had a big smile for everybody. I will always remember her positive attitude towards her illness, maybe behind closed doors it got to her but out front, she just shone like the sun. I will never forget her and would like to think that we'll meet again one day ……………. maybe at the Heavenly Rum Bar, I'm sure Col would have set one up!!!
Yvonne Gibson (Stitcher)
Our condolences from the Trinidad Hashers (POSHHH).
Big Bird, Henk Bertsch
Judith has gone too soon. I will miss her very much, she was one of the first persons to invite me and Rainer when we arrived in Jamaica 1998. We know the Jamaican German Society because of her and Anton, they even introduced us to the Hash where we ended up knowing all good friends we have until now.
Most of the places we went she was always among us. She organised lots of activities like Sunday Brunches, the drink and drive outings, trips to places like Hollywell, Sincona, Jan Festivals, and not forgetting the Europe trip we made with Bev, Majory, Junia and poor Anton who was the only man to survive with all the women around him. Also she organised all the New Years street parties at Wellington Glade and many more. I can't count all the good moments we spent together with such a wonderful person, she was good in communicating with people who left Jamaica and could easily make them come back and feel as their second home here.
Judith was a person who was very well known by many of my family members and friends here in Tanzania and even the ones who never met her knew her from pictures I have in our albums and also by telling them of how close we were, what a good person she was, Judith is un-replaceable, she has left a big gap in the group. I pray to God that we continue our unity just like the same way she was bonding us, we unite and love each other. Now we know our good Lord can take us anytime and so it is time to keep ourselves ready and repent.
May God rest our dear sister Judith in eternal peace, I know that she is still together with us spiritually and we will meet each other again in our new life.
Stella Rwechungura, Tanzania