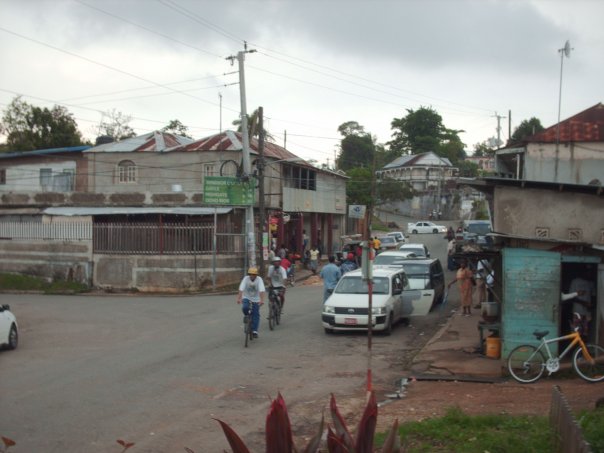 Run 491 – Goodwill Farms, Guys Hill, St Catherine –
POSTPONED due to bad Weather and Flooded Roads.
Sunday 21 May 2017, 13:00am
Hares:- Paul Brissett, Cockpit, Wendi Peart
This is deep rural Jamaica. It is NOT a water Hash – but it may rain!! It has all week. Advised to bring the usual sun cream, insect repellent, chairs, water.
How to Get There:
Travelling time: TWO HOUR SCENIC DRIVE FROM KINGSTON VIA THE FLAT BRIDGE.
NB. These directions are as advised by the Hares. Google map shows the journey as between 50 and 60km, dependent on the route you chose to take. Google also says journey will take about an hour, but Google doesn't know Jamaica roads!
You are driving out from Kingston (West) to reach Guys Hill, St Mary.
TWO HOUR SCENIC DRIVE FROM KINGSTON VIA THE FLAT BRIDGE.
(Hares Advice: PLEASE DO NOT TAKE THE HIGHWAY!)
YOU WILL BE GOING ALONG THE ROAD THAT IS KNOWN AS THE DEVIL'S RACE COURSE. JAH3 SIGNS WILL BE POSTED ALONG THE WAY SO YOU SHOULD NOT GET TOO LOST.
**NB NB NB** Take a Map!. Familiarise yourself before starting out! See attached old road map. More detail some modern ones!
TAKE MANDELA HIGHWAY OUT OF KINGSTON AND PROCEED TO THE SPANISH TOWN ROUND-ABOUT (WE REPEAT, DO NOT TAKE THE HIGH WAY!!).
TAKE THE EXIT TO OCHO RIOS & PROCEED TO FLAT BRIDGE AND ON TO LINSTEAD
AFTER THE 2ND ROUNDABOUT, AFTER FLAT BRIDGE, TURN RIGHT AT TRAFFIC LIGHTS (LOOK FOR LINSTEAD MUFFLER SIGN ON RIGHT)
PASS THROUGH ORANGE ORCHARDS
GO OVER THE BRIDGE AND KEEP LEFT AT THE FORK
PASS 'WELCOME TO BERKSHIRE HALL
TAKE MIDDLE ROAD UP THE HILL
GO THROUGH THE DISTRICT OF BONNET
TAKE LEFT AT HAY CITY (YOU'LL SEE A PET GAS STATION ON THE LEFT)
TURN LEFT AT FORK AFTER PET GAS STATION
KEEP RIGHT AT FORK
PASS THE HISTORICAL ST. GEORGE'S CHURCH (RED BRICK BUILDING) AT BLACKSTONEHEDGE ON LEFT
DRIVE OVER NARROW BRIDGE
LEFT AT FORK AFTER THE BRIDGE
LEFT ON GOODMAN ROAD
PASS THE ROSE STREET CHURCH OF GOD & HOUSE OF PRAISE TABERNACLE
LEFT AT MARTIN STREET INTERSECTION
HANG IN – WE'RE ALMOST THERE!!
LEFT AT THE RED SHOP (OPPOSITE THE NWC WATER TANKS)
CONTINUE STRAIGHT AHEAD AND LOOK FOR ENTRANCE ON THE RIGHT – Goodwill Farms
Please note that the email notice has been sent out for this event already, so if you did not get it then there are 2 reasons:
1, You have not updated your details since the switch, so either reply to the earlier email, or go to the Stay Informed page to sign up.
2, There is a bug in the workings so please let me know the details and I can investigate.
Just please make sure you have checked your Junk / Spam folder first!