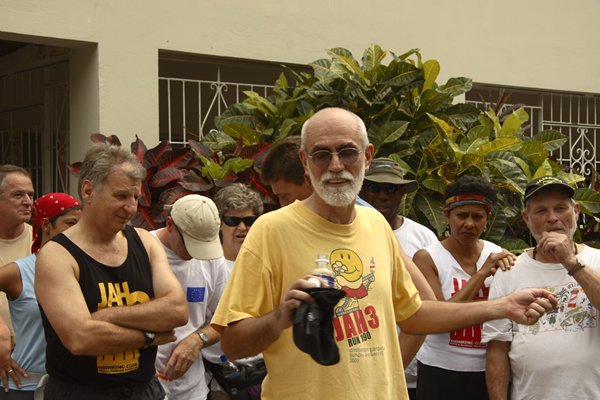 Run 484 – Ramble, St Thomas.
Sunday 5 February 2017, 13:00pm
Hares:- Panic Attack, Wheeler Dealer, Ms Roachie
How to Get There:
Travelling time: Time to location about 45 minutes from Harbour View.
Travel East out of Kingston. (as if towards the airport)
Pass the Harbour View Round-a-bout, and head towards Yallahs. The journey is about 45 mins from the round-a-bout.
Travel along the main south coastal road.
You will pass the Sun Coast Adventure Park and Three Finger Jack monument.
Continue along the main road going in the direction of Yallahs, look out for Coast-to-Coast Quarry (first major landmark) just before entering Albion. Take the left turn there.
Follow the main road and look out for the fork at Cambridge Hill Road (on left) and the bridge (on right),
Keep straight at this intersection passing the stone wall with sign to Easington (second land mark) a JaH3 sign will be placed here.
Please note, this road is very narrow and has trucks traversing to and from the quarries in the area, so it is advised that you toot your horn around the corners (just to be safe).
Continue along the main road passing through the town of Llandeway going on to Ramble. When you get to the Ramble square please park in an orderly manner to allow for efficient and maximized usage of the limited parking within the area.
The Hash area will start from this location and take us through the community of Ramble and across the Yallahs River.
Please note that the email notice has been sent out for this event already, so if you did not get it then there are 2 reasons:
1, You have not updated your details since the switch, so either reply to the earlier email, or go to the Stay Informed page to sign up.
2, There is a bug in the workings so please let me know the details and I can investigate.
Just please make sure you have checked your Junk / Spam folder first!