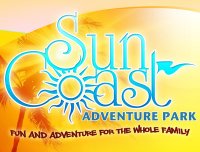 Run 469 – Sun Coast Adventure Park (St. Thomas)
Sunday 12 June 2016, 13:30pm
Hares:- Sharon & Calvin, Pumpkin Eater & Cockpit
How to Get There:
Travelling time: Approximately 30 minutes from Kingston.
From the Harbour View Roundabout travel towards Bull Bay and onwards to Sun Coast Adventure Park, St. Thomas (approximately 6.5 miles from roundabout or 15 minutes).
En route, look for the following significant landmarks:
-The town of Bully Bay, best recognized from the Police Station made from cut stone and situated on the sea side of the road. You are 5 minutes away from our destination!
-Sugar Loaf Mountain, a singular and steep mountain on the sea side of the road. You are now 4 minutes away.
-Look for the large gardenia coloured wall on the right hand side with sliding gates and guard house. Look for the SUN COAST ADVENTURE PARK sign. You have have arrived!
-If you reach the monument to Three (3) Finger Jack (Jack Mansong on the left) you have passed the turning. Turn back!
-If you get to the Yallahs Bridge – well, you may as well keep going to Port Antonio which is about 1.5 hours down the road …
Please note that the email notice has been sent out for this event already, so if you did not get it then there are 2 reasons:
1, You have not updated your details since the switch, so either reply to the earlier email, or go to the Stay Informed page to sign up.
2, There is a bug in the workings so please let me know the details and I can investigate.
Just please make sure you have checked your Junk / Spam folder first!