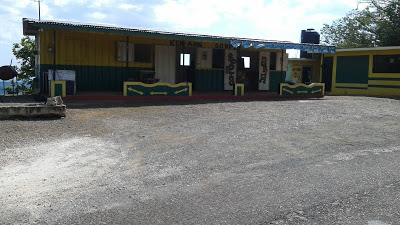 Run 459 – Ken-Ann complex, Cudjoe Hill, St. Catherine
Sunday 10 January 2016, 12:30pm
Hares:- Kaydean, Nicolas, Fareleak.
How to Get There:
The hash starts and ends at 'Ken-Ann complex' in Cudjoe Hill, St. Catherine.
From Kingston, 6 Miles, take Mandela Highway to Spanish Town; at the first Traffic Circle take the 1st exit after the high school and follow the Spanish Town bypass to the next Traffic Circle.
At this 2nd Traffic Circle you take the 3rd exit (not the 1st one to the toll road, not the 2nd one to Old Harbour, but the 3rd one) towards Angels and Ocho Rios.
After 0,75 km turn left onto St. John's road (first left after the Total petrol station).
Follow this road for +/- 18 km: pass the Dovecot graveyard on your right, drive through St. Johns Heights, follow the road (keep right). Drive through Kitson Town and go up in the hills, pass a set of white farm sheds on your right, follow the road (keep left) and cross a narrow bridge into Guanaboa Vale. Pass a school, church and Police station on your left hand (keep right), go further up in the hills – the road becomes windy – and find the Ken-Ann complex on your left. Park here.
How long to get there?
33 km, less then 1 hour from 6 Miles, Kingston.