Our Hash Year 2007
Two highlights in 2007 were the first and last run of the year, each held in the hills of St. Andrew, we began in Irish Town, an all time favorite hash venue because of its many trails, Crystal Edge's food and Cafe Blue's coffees and cakes, and finished in Jacks Hill, a venue to truly test our fitness!
Run 238 Irish Town, January 7, 2007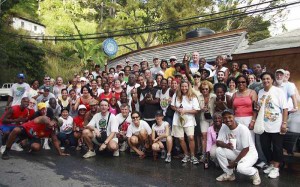 Run 259 Jacks Hill, December 16, 2007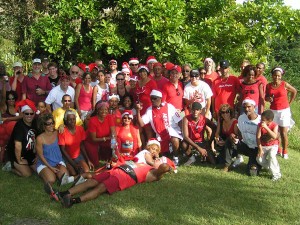 Another challenging workout was Run 239 on January 21, in Norbrook. Struggling with yet another of St. Andrew's steep hillsides! Some hashers, like myself, took 3 hours to come back ON IN, no way did I have any intention after this experience to join the annual "Father forgive us our sins" walk from Norbrook to Hollywell on Easter Saturday!
More pleasant and scenic hashes took us to Portland's rivers and falls, St. Catherine's caves on Mount Diablo and near Hellshire Beach, Yallahs River in St. Thomas or Mr. Motivator's Priory Beach in St. Ann.
Our summer break was extended through August until September 9 due to hurricane Dean and the General Elections. We now have a new government and are hopeful that Jamaica will become the true paradise for every hasher!
Thanks to all the hares for their efforts in 2007!
The FRB hit-list in 2007 is led by Burp, who received the "Getaway Award" for 19 runs, followed by Rice 'N Peas, St. Paddy's Revenge, Tarzan and Energizer Bunny with 18 and Maniac with 17 runs. Most active new hashers were Guano and Sergeant Pepper with 8 runs each in their first year at JAH3!



The AGPU did not happen again this year, because the party agenda of our JGS Pinta(e) group prohibited the plan's going ahead. Will we have a TGPU "Tri-annual General Piss Up" finally in 2008?
Sadly we lost Colin "Captain Compass" Gibson after a short and tragic illness! He will be remembered as one of the most avid hares in JAH3 history! A hash was set in his honor near Catherine's Peak bottling plant, the longest hillside hash this year at 8 km, if you went the whole trail! He would have been proud of the hares, Mother Chucker and Peter Wrong!
Welcome and ON ON to our new JAH3 members, born in December 2007!
Sienna Jamaica Gaetano, daughter of Singing Bagpipe and Tiny Bagpipe.
Isabelle Simandan, daughter of Toothpick and Count Dracula.
Jade Marie Williams, daughter of Winsome and Andy "Seahorse" Williams.

Congratulations to the Moms, Edith and Julie, well done!
Isabelle and Sienna Jamaica would like to say "Thank You" for the Baby Shower!
Congratulations to the Dads, too!
Congratulation to Winsome and Andy!
Jade Marie Williams, was born on December 16, 2007, weighing 8lbs 7 ounces!!

Looking forward to seeing all Hash Puppies on their first hashes in 2008!
ON ON to the newlyweds!
The curtain on the final act of the year was raised December 29, 2007 at 4 pm in Ocho Rios. After 10 years of living in sin Rainer "Kiwallah" Terwey and his African Queen Stella "Malikia Wa Afrika" Rwechungura took their marriage vows in Jamaica.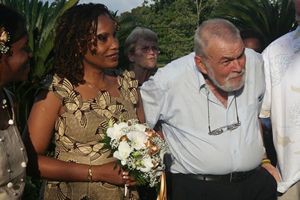 They first set foot on Jamaican soil in December 1998, and stayed for more than 5 years. Having found a new family amongst hashers and JGSer's, it was easy to say "I DO" here, celebrating their union with their friends, lots of laughter and an abundance of food and drink!
Yours truly, BMW
Happy New Hash Year 2008!