(We are not responsible for the content of the published Hash Trash, and have no idea who is!)
Want to Keep in Touch??
If you have any pictures, stories or memories that you want sharing on this site then you can send them on to a familiar committee member and ask them to pass it on, or else mail us directly at: jah3@jah3.com
ON ON
Jolly Roger HHH Pirates of the Cari-beer-run in Jamaica
January 27, 2011
Pothole, Triple L, Pum'kin Eater and Maniac welcomed 47 hashers from JRH3, Tampa FL, at the Ocho Rios Cruise Ship Peer on January 27, 2011. Pothole had been rekkiing from last year, when the hashers could not disembark their boat because of an engine problem. This time they followed Columbus' example and set foot on Jamaica. They were also joined by visiting Bahrain hashers Dildo and Mud Devil. See the pictures of their run around Mystic Mountain on Picasa and visit their website www.jollyrogerh3.com.

Follow the trail in a google picture on http://www.jollyrogerh3.com/2011_01_22.htm
Wendy sent us two pictures and emails with her Heroes Weekend Memories and some good advice!
Monday, October 19, 2009
From: Wendy Green
Sent: Friday, November 13, 2009 3:48 PM
Subject: Pelican Bar
Dear Ulla,
Here is a photo of the Pelican Bar.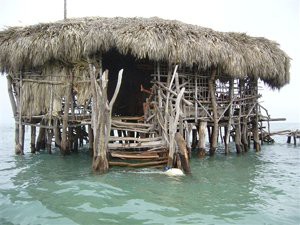 Although you can only reach it by boat Gill was very disappointed to be able to see land … It is very rickety but has a small bar and cooking area. There is a platform to sit out on but the biggest surprise was that when we were swimming and I put my feet down the water only came up to my waist and you might remember that I am rather short. I thought that I had stood on a rock and it was only later when showing my foot that I was informed that I had stood on a sea urchin and that some of its spines had broken off and were still in my foot.
Apparently 'pee' is a very good cleanser!!!
I decided not to find out and when we arrived back in Kingston used white vinegar to bathe the foot with and a needle to get the spines out. When Thomas read up on the appropriate thing to do the information was 'pee' or white vinegar. The book also recommended that you should always carry a small flask of white vinegar with you in case of such an event. You probably already know this but in case you didn't, you do now.
So if you do go to Pelican Bar be prepared!!
Wendy
RUN # 308,October 17, 2009, Heroes Weekend
From: Wendy Green
Sent: Thursday, November 12, 2009 1:58 PM
Subject: Heroes Weekend
Hi,
I am sending this solitary photo as it is the only one that I have.
I had a great weekend with you all but I was so worried about getting left behind that I didn't have time to take photos on the Saturday and so decided not to take my camera on the Sunday. I will now be able to share the ones that have already appeared on your website.
The weather here in England is dull, wet and definitely colder than Jamaica so it is good to be reminded of the warmth and sun. Especially the warmth of you Hashers, I hope that the next time I visit the Bystedts I
will be able to join you again.
Best wishes, Wendy
Hash # 299 June 28, 2009 Yallahs Salt Pond, St. Thomas
A Virgin's account of his first ever hash
Jamaica — Hash! Sounds good but this time it won't leave you elevated. In fact, at the end you may be debilitated.
Yes, it was a sunny afternoon in Kingston and I gave up cricket at Sabina Park — India vs Windies — and Usain Bolt at the National Stadium to join sixty wandering "hashers" along the Salt Ponds of Yallahs across smooth stones on the adjoining seaside in a exhausting trek with red stripe, jerk chicken, and curry mutton as the prizes.
This motley crew of tireless pikers, including members from Turkey, California, Canada, Germany, etc. and a pesky group of Jamaicans met the challenge with aplomb, ribald jokes and laughter, an admixture of Oscar Wilde and Richard Pryor.
Getting there was the challenge. The parish of St. Thomas seems to be less fortunate than the other thirteen. Highlights were the craggy roads, denuded hillsides in spots, punctuated by locales such as the Don Quarry school (one of the great sprinters who preceded Bolt), defunct Cable Hut and Copacabana nightclubs, and the new bridge spanning the dessicated Yallahs river bed.
Dodging treacherous potholes was more real than the phantom snipers that US Secretary Hillary Clinton allegedly evaded in Tuzla, Bosnia, a few days before the April 3, 1996 fateful flight of the late US Secretary Ron Brown. And I was there. Incidentally, his death was a critical turning point in the US political landscape.
Under the flagging flimsy sky-blue tent, the Constable who presided at the post trek ceremony regaled the tireless hashers with charges against fellow hashers who bore names such as Shady Lady, Cotton Socks, Split Ends, Herbal Death, Immaculate Perception, Rice and Peas, etc. Newcomers were welcomed with sputtering that sounded like a cacophony of bellicose Gaelic utterances and primal grunts. Everyone was in unison.
After downing a few Red Stripe beer and tropical cuisine, most hashers found refuge in the rhythmical waves that caressed the dark sands of the south coast. As we packed to leave, we were kissed by a brief downpour, and reminders that the hashers would meet next on the north coast in St. Ann.
On the outskirts of Kingston we stopped at "Dannie's Marina" for yet another Red Stripe, noticing the sign "no ganja smoking here". Split Ends made some somatic abdominal gyrations similar to those so prevalent in the savanna during carnival in Trinny. Her perplexed English husband looked on bewildered or perhaps mesmerized in anticipation.
I left wondering if the hashers will be devoid of a puff on the next odyssey.
Earle Scarlett
Thanks to Johnny Hash for his Trash contributions in 2008!
He is submitting his LAST TRASH – for now!
Hash # 287 January 11, 2009 Spring Gardens, Portland – North Coast Ramblings
Hares: Bulby, Sgt. Pepper, Two Knees
This was properly described by the Hash Master as a British Army run. The word run being somewhat of a euphemism . As with most British Army operations the start was delayed by the late arrival of the British Navy contingent, but just as the mighty Guano made his entrance Sgt Pepper felt the need to raise his voice and commence proceedings with a reminder of how stupid it is to walk along the highway in Jamaica. Once the concept of single file had been worked out Bulby reassured us that there would be something nice to see.
The hares stood at the corner they had told us about and like NCO's everywhere they made sure we all went up the hill away from the flat coastline up a shaded goat track away from the noisy annoyance of the traffic. While a cooling breeze rustled through the leaves, we climbed, looking over our shoulders at the coastline vista as it popped up at the curves along the steadily rising trail. The path had been honourably set, with consistent markings… I kept far enough ahead getting involved in a couple of false trails thus saving those dallying behind me the unnecessary exertion. We reached some houses and the bemused residents proved that Bulby had actually passed that way that morning. I knew we were on the right track. Then Bulby pointed out this giant tree that stood there massive but half dead reaching upwards majestically in ancient splendour barely alive with this year's green buds reaching for sunlight on the top branches. Both the Energizer Bunny and Wheeler Dealer identified it separately as a "Cotton Tree" and it is by far the biggest tree I have ever seen in Jamaica.
We crested the mountain near a beautiful hidden villa nestled on immaculate grounds. The house dogs ran down to greet us, more excited by visitors than in any way threatening. After breathing in the clean air and feasting on the view, we headed back down hill along another trail that hugged a steep inland valley. The trees formed a seemingly solid canopy and in the heat of the day the shade felt almost as good as that first beer at Hash Circle. It was an excellent trail and those around me were just happy to be there.
Hash Circle was indeed a busy time. Rice and Peas administered his usual interrogation as we watched our group grow again, absorbing the willing recruits. Several new runners were introduced and the rookies smiled sheepishly as we sang. Down Downs were administered by the Hash Master, who found particular pleasure in singling out some "returning" hashers who had been absent from some previous runs. I tried to pay attention but as the circle continued the bitter sweet emotions of good friends lost, started to get the better of me. Proceedings were concluded with the announcement of an imminent departure of a regular. He stood alone in the circle facing the group, totally embarrassed. Mercifully, the good bye song, (a fittingly off key, off tempo version of "leaving on a Jet Plane") was cut short before the end of the first tortured verse by a drenching shower of ice water that felt actually pretty good, given the sweaty shirt stuck on him. He fumbled for words to express how happy he was to have met everyone and managed to toast Jah3 as the "Best Tour Guides in Jamaica." Festivities concluded with the details of the next Hash and we turned to the food happy to have made the effort to get out of the city for a while.
As I drove away I could see the jungle mountains in my rear view mirror and the Caribbean gently caressing the Island and I knew that this beauty would be here forever , just like that Cotton tree and just as it would be forever in my favourite memories.
Thank You All,
Johnny Hash
Still want more?>
Click the links below for even older Hash Trash:
Trash 2007-2008
Even Older Trash!